Cambridge Area Maker Group
Cambridge Area Maker Group, call sign KY8C was created January 2018, by Amateur Radio Operators, Registered ARRL Instructors, ARRL V.E.s and like minded folks, to teach and learn from others.

We meet, Second Sunday each month
1 PM to 3 PM
St John's Episcopal Church ( Downstairs )
1025 Steubenville Ave Cambridge, OH
AMATEUR RADIO EQUIPMENT BUILDING, DIY, HACKERSPACES, 3D PRINTING, LASERS, ARDUINO, CERAMICS, SILKSCREENING, SOLDERING, ENGINEERING, FARMING, CRAFTS, RASPBERRY PI, SEWING, SOLAR CIRCUITS, ADAFRUIT, WOODWORKING, ELECTRONICS, BEEKEEPING, DRONES, SCULPTURING, PHYSICS, METAL WORKING, WELDING, ANTIQUE TUBE RADIO REPAIR, ANIMATRONICS, MICROCONTROLLERS, ROBOTS, ROCKETS, CNC, ART, TECH, TESLA COILS, PLASTICS, MOLDING, ELECTRO STATIC GENERATORS, COMPUTERS, GADGETS, HVAC, INVENTIONS, PEDAL POWER AND MORE!
Want to learn how to make something? Maybe we can help!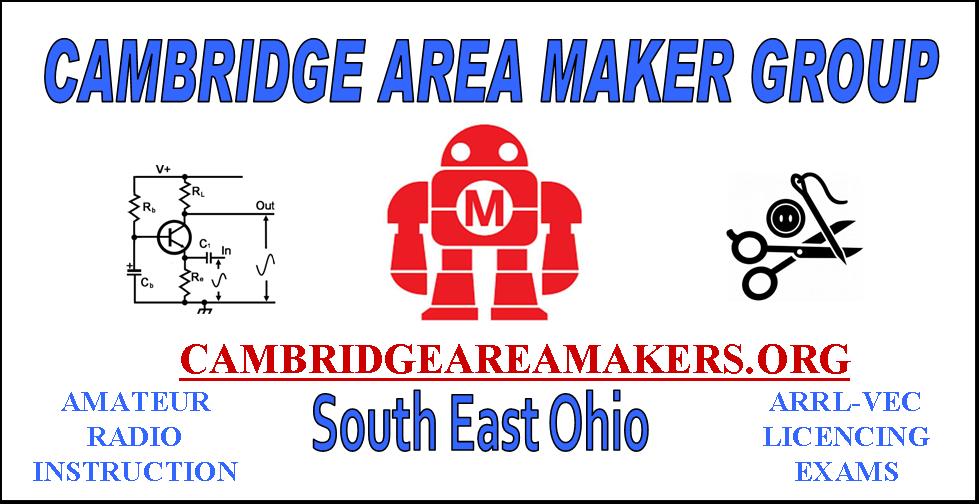 Amateur Radio Instruction, ARRL VEC License Exams, Elmering in Equipment Building, Electronic Kit Building, Presentations and a lot more DIY...